The term "construction management software" refers to a kind of project management solution that has been developed specifically to address the requirements of the building and construction sector.
Many technologies have been created for general work management, but the construction business has its own special beast. The construction sector stands to gain a great deal from implementing more effective workflows and homebuilding software; however, these tools must be developed to be compatible with the procedures already in place at the organization.
Communication, decision-making, and project scheduling are just some of the tasks that may be made far more efficient with the help of construction management software.
Benefits From Utilizing Construction Management Software
The use of construction management software comes with several benefits, including the following:
Streamlining the Management Procedures and Processes
Implementing a systematic management strategy should be the fundamental objective of any construction management software. Consequently, personnel can guarantee that projects are finished on time and under budget thanks to the software tools.
A variety of official documents, including Requests for Information (RFI), Transmittals, and Submissions, may be prepared by personnel using technology. It makes it easier for important personnel to share essential data and project budgets, and the progress of all of these aspects can be tracked concurrently.
The Management Of Documents
There is a significant amount of paperwork involved with construction firms. Once upon a time, it was a standard procedure for businesses to place tangible papers in file cabinets for protection.
However, this approach has largely been rendered obsolete with the introduction of software to manage building projects. Documents are now handled electronically and saved in document management systems when it comes to software for construction management.
Accessing And Sharing Information
Because all of the data on project management is maintained in a single location, it is not difficult to locate the information that you want. In addition, audit log records, which display the date and time of a document's creation and any subsequent modifications, make it easy to keep track of such documents and avoid their loss. At any point in time, quick access may be granted to vital information for each team member with a vested interest in the project outcome.
Evaluation Of Dangers Involved In Construction Projects
The construction management software that organizes project papers makes it possible to recognize potential dangers and devise countermeasures before they materialize.
A crucial component of cost control is the capacity of construction management software to discover essential documents such as contracts, modification orders, and budget status reports. Because of this, the expenses associated with the project are reduced to a bare minimum, and errors that may lead to increased expenditures are avoided. Consequently, a business can take advantage of reduced operational expenses and more financial transparency, both of which lead to an improvement in profitability.
Provision Of Services With Efficiency
Integration of construction accounting software with construction management software is becoming more widespread in the industry. As a direct consequence, managers now have improved capabilities to finish projects on time and without exceeding the allotted spending. This solution simplifies the whole process of building a business from start to finish. Consequently, it serves to successfully unify the staff, encourage efficiency in the workplace, and, finally, guarantee profitability.
It Is Much Easier Than You Believe To Expand Your Company
By encouraging more productive ways of doing business, software for managing construction projects may hasten the overall completion of a project. As a consequence, further contracts may be accepted, which may ultimately lead to the company's expansion. Because a greater volume of business equates to a more efficient marketing approach, a rise in employment will ultimately result in a larger proportion of the market.
Attempting To Improve The Level Of Quality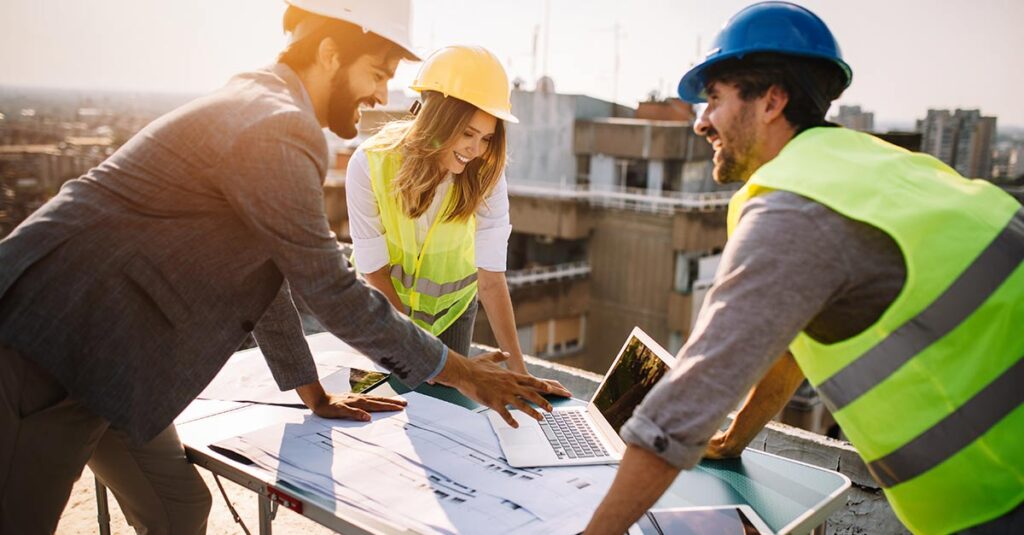 The use of construction management software improves the planning and control of a project while fostering increased construction safety. Consequently, projects are completed more quickly and efficiently, with fewer expensive errors and delays.
Why Employing Construction Management Software Is a Wise Decision
Why should construction companies utilize construction management software? There are various reasons why these solutions may assist builders in providing better services, all of which have been discussed. One of them is:
Accessibility On-Site Users get access to most cloud-based construction management applications whenever, whenever, and whatever they want. Consequently, you won't need to worry about completing your job on schedule or rushing into the office to get it done as soon as possible.
Teams, In Addition To Other Kinds Of Organizations
Using the many technologies available for construction management, project managers may interact with various groups. Because it is conducted online, it will be much simpler for all individuals involved to collaborate on a project. It is the ideal method to take if you want to guarantee that your processes are efficient and that your task estimates are accurate.
An Accurate Observation
The timely completion of a project is dependent on a number of factors, including the suppliers, the equipment, and the supplies. A construction management system can monitor and record data about every facet of a company's activities. In turn, this increases the productivity of the team, which in turn, enhances the quality of service.
Enhanced Levels Of Both Efficiency And Productivity
This software assists in streamlining operations by automating formerly manual procedures like estimating, invoicing, monitoring payments, project scheduling, and time tracking. Because of automation, there is no longer a need for human data input, which saves time and reduces the number of errors that may lead to more expensive blunders. In addition, the system's built-in features, such as task reminders and alerts, make it much simpler to keep up with all of the due dates, further contributing to the system's increased efficiency.
Cost Reductions And Gains In Productivity
Automated procedures save expenses associated with labor hours spent manually entering data or double verifying information owing to a human mistake from manually inputting data. These costs are reduced because automated processes eliminate the potential for human error. Because everything is saved safely in the cloud, it is simple to access it whenever you need it from anywhere worldwide as long as you have an internet connection.
It saves money and eliminates the risk of losing important documents. In addition, automated procedures enable teams to have more flexibility when designing the workflow for their projects, which in turn results in shorter completion times overall, which ultimately results in cost savings in terms of both money and resources.
Conclusion
Construction management software is a useful tool that may help you save time and money. You may improve the efficiency of your construction projects by following the advice given above, which will help you simplify your process.